More Success Stories!
I had almost given up hope…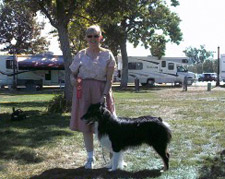 Thank you Dr. Carroll. I started seeing Dr. Carroll the last half of July 2011. I had broken my leg in 2006 and ever since then had back, neck and shoulder pain. I showed Australian Shepherd dogs and with the pain I could not stand to groom, bathe the dogs, much less run around the ring with them. I had to have someone to take over and show for me. Very disappointed as I had been showing since 1992. Due to the treatments on my back, neck and shoulders, I was in the dog show ring August 2011 at the Greeley Kennel Club shows. I have showed several times this year and give Dr. Carroll an A+ for his help. I continue to see him once a month for adjustments on the back, neck and shoulders. I am attaching a copy of my 4 ½ year old male Jake, aka officially, HERNE'S JAKE THE BAGPIPER, from the Greeley KC show this past August, 2012. I am also showing his sister, Cailin, aka HERNE'S BEAG CAILIN. I had almost given up hope of ever showing these two and am very appreciative to Dr. Carroll for helping me achieve this. – Jill
Chronic Back Pain due to permanent spinal injury
For the past 12 years I have been treated by two different chiropractors due to a seriously permanent spinal injury I sustained over 30 years ago. They each certainly helped reduce my chronic back pain. And then I found you. I am happily astonished at your amazing knowledge, expertise, gentle approach and caring attitude toward my spinal, knee and shoulder health issues. I have never experienced the type of thorough chiropractic consultation, physical exam, and computerized spinal exam that you provided on my first visit to your office. Subsequent office visits have proven to be equally rewarding as my body responds to your prescribed treatments. Your chiropractic services, coupled with your educational instructions, have greatly reduced my discomfort and give me hope for a pain free lifestyle doing the types of activities that have been thus far curtailed. Thank you for your expertise, professionalism, and kindness and especially for not allowing me to give up on myself through this healing process. – Becky B
Extreme pain in shoulder
I started seeing Derek Carroll about six weeks ago. I was having extreme pain in my shoulder, and it felt like knives were stabbing me. By the time I had seen Dr. Carroll three times, improvement began. I saw him 3 times/week for five weeks, and although I still have some issues in my neck, the extreme pain in the shoulder is gone. Dr. Carroll is great. He really knows his stuff. I needed no medication, a few adjustments and strengthening exercises, and I am feeling great. Treatment tapers off and maintenance begins as I improve. I'll continue to see him regularly. – Debbie C.
Dr. Carroll takes the time to listen
I have been to several chiropractors and started seeing Dr. Carroll when he was a partner in a Greeley Office. He is excellent, very skilled at adjustments but also takes the time to listen. He is easy to talk to and does not rush me. He actually listens, He really knows what he is doing and now I drive to Loveland to see him even though there are lots of good doctors in Greeley. – Anonymous
Problem hip and neck
I went to Dr.Carroll in Greeley and he is a wonderful chiropractor, very caring and skilled at lots of adjustments. I followed him to Loveland because he is so good. He is very caring and seems to be in the business for healing. He has helped a problem hip and neck a lot. – Ronna J.
Pain in hips and feet
I could not be happier with the service and care I get when I go to Dr. Carroll's. He is very knowledgeable, empathetic, and concerned. He knows what he is doing and cares about the outcome. His work on my hips and feet allowed me to successfully complete an extended hunt this fall that was important to me. Thank you, Dr. Carroll. – Joe C.
Right shoulder pain
I had been fighting right shoulder pain for about 5 years. I had seen several other chiropractors and was told I had a rotator cuff tear. I really did not want surgery and was doing everything I could to avoid it. I awoke one Sat in such severe pain, and I could not lift my arm. I did not want to go to the ER. I prayed to find a chiropractor that was not only open on a Saturday – but who could help me! I then Googled Chiropractors open on Saturday for this area. I found him by the Grace of God. I was told my ribs were out. He adjusted me and put a tens like unit on me. I walked out of there pain free and I could lift my arm for the first time in years. I now go for adjustments and I always feel so much better. I am a RN and work long hard hours. I have referred other people to him, and they have had relief as well. I especially like the warm caring atmosphere. Thank you! NO surgery!!! – Meredith M.
Injury from playing soccer
I was dreading going to a chiropractor after I injured my back playing soccer. I tried to get through the pain and hoped it would go away on its own but it didn't so I went searching for a chiropractor. My friend recommended Dr. Carroll to me and I am so happy with the results. He is very caring and understanding. I recommend him to everyone now. – Anonymous
[/box]
Better Health
Thanks to Dr. Carroll for finding me when I needed to get back to better health. I believe working with him now and in the future I will learn how to keep my body healthy. – Anonymous
Back to health!
My wife and I took advantage of the complimentary chiropractic consultation, exam, and computerized spinal exam. Dr. Carroll went over the results in detail and laid out a plan to help us get our backs…well, back to health! I have found Dr. Carroll to be a good listener, conscientious, and willing to spend time with me, not rush me out the door. – Anonymous
Day-to-day tasks were a constant worry…
As an active teenager, I shouldn't have to worry about being mobile. However, due to back, neck, and forearm problems, day-to-day tasks were a constant worry. Dr. Carroll has gone above and beyond to relieve this worry and all of my physical pain. I no longer have to forego doing every-day things. I can again be fully active thanks to Dr. Carroll's fantastic and up-to-date practice. – Rachelle R.
Never feel rushed
From the time I walk in the door till I walk out again it never feels like I'm in a doctor's office. Doctor Carroll is professional and made me feel comfortable right from the beginning. I also appreciate that I have never, from the very first visit felt rushed. Doctor Carroll has worked on my back and neck with excellent results. I have issues with my right hip and what really has impressed me is that, although there has been some improvement in the hip Doctor Carroll suggested that I have the hip looked at by my GP. That shows me that his best interest is in the client's health. – Rocky Z.
---
Additional Back To Health Chiropractic Reviews | (970) 635-2848