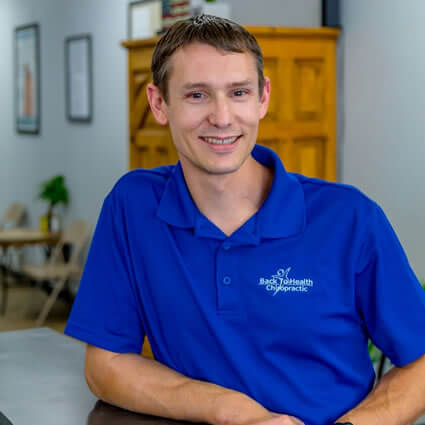 Meet Dr. Derek Carroll
From Injured to Living Well
An active participant in track during his school years, a drill for the triple jump left Dr. Carroll in severe pain from an incorrect landing. With a sprained pelvis and herniated disc in his lower back, he couldn't even stand up straight.
It was the chiropractor that put him back together and began educating him about chiropractic. Dr. Carroll had been under the impression that it was all about pain. He soon learned that chiropractic focused on his overall health, making sure that he could live well for the rest of his life.
OUR SERVICES

Discovering Chiropractic
The concept of healing the body from within and finding the underlying cause of a problem intrigued Dr. Carroll. Inspired, he attended Idaho State University to earn a Bachelor of Science in Biology. After, he began his chiropractic education at Parker University in Dallas, Texas. While there, he had the good fortune to learn from professors that discussed the neurological effects of chiropractic care.
It made sense to Dr. Carroll that since the brain controls the body, if there is dysfunction present, the brain would be a logical place to start. These teachings would later lead Dr. Carroll to integrate a neurology-based form of chiropractic into his patient care.
He graduated summa cum laude as valedictorian of his class and entered practice in Greeley. There, he worked for one of the largest clinics in Northern Colorado, treating a multitude of conditions.
A Passion for Results
It's important to Dr. Carroll that he continue learning to benefit his patients. He is currently enrolled in a functional neurology diplomate program. Using chiropractic and exercise to influence brain function can bring about remarkable results.
One such case; Dr. Carroll saw was a young man who was seventeen years old. A few years earlier, he had started developing uncontrollable tremors. He couldn't even drink a glass of water without having to use both hands. Embarrassed to go out in public and avoiding family dinners, his grandmother suggested he see Dr. Carroll.
After a couple of weeks of working with him, the tremors began calming down. They haven't gone away completely and may never, but he can now go out with his friends, finished his high school education and is working two different jobs. Dr. Carroll had the privilege to see the confidence and life return to this young man.
Book Your Visit
There's never a charge to sit down and talk with Dr. Carroll about what we may be able to offer you. Contact us today to schedule your first visit!
---
Dr. Derek Carroll | (970) 635-2848