Helping You to Feel Comfortable
If you've never had chiropractic care you may feel a bit nervous. Dr. Carroll always shows patients the different options they have. You can choose the technique that you're most comfortable with. He'll show patients the table and demonstrate how it works. Dr. Carroll will show them the tool and let them feel it so they are introduced to the instruments that we use for adjusting.
Our Techniques
We primarily use Diversified, which is a manual technique that helps to gain spinal mobility quickly and get nerves back on track fast as well. We also use drop techniques like Thompson Drop. With this method we can get the benefits of the manual adjustment, but with a gentler approach. That's a big deal for patients who don't like feeling pops and clicks.
If you prefer not to be adjusted manually, we also offer adjusting with the Activator Methods® technique. This technique is very low force so you hardly feel anything while getting adjusted. The tool moves fast enough that it can get through any kind of muscle tension and move the joint.
You won't feel any popping or clicking with this method either. It's very gentle. It can be used on anybody from newborn infants to those with severe osteoporosis.
What to Expect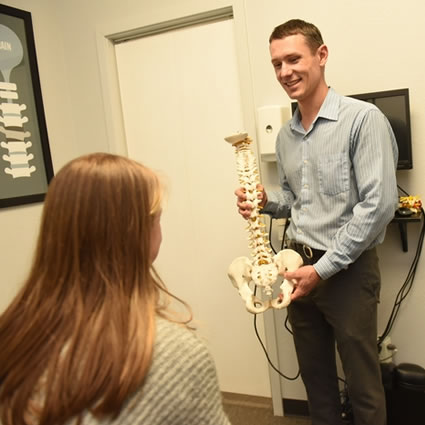 We always start every patient off with a thorough exam so that we can know exactly what's going on. You'll go through orthopedic and neurological tests so Dr. Carroll can determine the state of your spinal health. X-rays may be taken as well. A typical patient comes in with active acute pain. We will see them between two to three times per week. That could last for as little as a week depending upon how severe their issue is and their goals for moving past that pain phase.
That pain phase alone could last upward of a month, plus or minus a week. As we continue to see improvements, pain decreases, muscles start to normalize, and function begins to return, then we'll reduce that to twice a week for between two to four weeks.
Then we'll move from corrective care to more wellness-based care which will drop to once a week and then on to every other week. If you're strictly interested in maintenance care we usually recommend coming in a minimum of once a month to get adjusted. Doing so helps us make sure everything is continuing to operate well and to prevent flare-ups.
Benefits of Chiropractic
Here are some other significant benefits you may experience from receiving chiropractic care:
Relieves pain
Restores proper motion in the spine
Improves overall body function
Enhances athletic performance
Improves sleep
Increases energy
Common Conditions We See
Here are just some of the many different types of conditions for which patients seek our care:
Arthritis pain
Back pain
Disc herniations
Fibromyalgia
Neck pain
Pregnancy-related aches and pain
Sciatic pain
FAQs
Once I go to a chiropractor, will I always have to go?
No. You can get as much out of your chiropractic care as you want. That may mean you just want to come in and get quick pain relief that takes a few visits to get you back to where you were. Then you can call us as need be.
Or if you want to continue from there to advance into wellness care, to help you live life to the fullest extent, we can do that too. So it's all a matter of what you desire out of your care.
Will I experience good results?
While we can't guarantee how you'll respond to care, more than 90% of the people that we have come into our office ended up getting fantastic results.
Can chiropractic cure everything?
While technically chiropractic doesn't "cure" anything, the focus of chiropractic care is to restore proper motion to the spine and remove interference in the nerves. Through this, the body is able to begin healing itself and most conditions get better and resolve. The best way to find out if chiropractic may be of benefit for your specific needs is to schedule an examination.
Will I get adjusted on my first visit?
Though it depends on the patient, the majority of people that come into our office do receive an adjustment on the first visit. Dr. Carroll may determine, however, that he needs to review the patient's case further before giving an adjustment.
---
Chiropractic Care | (970) 635-2848