About Back To Health Chiropractic
Dr. Derek Carroll has been in practice since 2007, assisting all ages, from newborns to older adults, regain their health, naturally. He opened Back To Health Chiropractic in 2010 to serve the Loveland community, offering neurological-based
chiropractic care
to area individuals and families.
Living By the KaitLynn Rule
KaitLynn is Dr. Carroll's eldest child. When he became a father, Dr. Carroll's entire life transformed. If there was something wrong with KaitLynn, or her two younger siblings when they came along, Dr. Carroll and his wife wanted to know that their children would get the best possible care around, whether it be from their pediatrician, chiropractor or other practitioner.
We take the "KaitLynn Rule" seriously at Back To Health Chiropractic. Each person is carefully listened to and receives a thorough examination. Subsequently, we can give every individual the exact amount of care their body needs – no more and no less.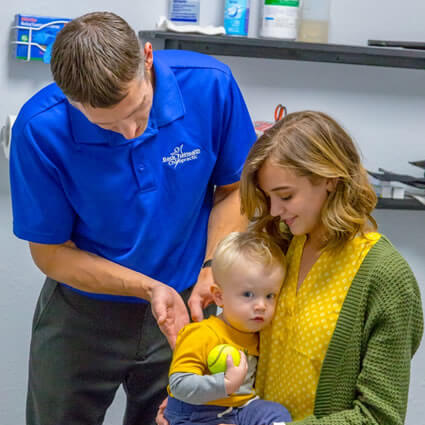 A Focus on Family Health
Dr. Carroll has a special focus on moms and children, often treating entire families who want to enjoy wellness together. One of his patients was an expecting mother who had been a patient for a while and continued during her pregnancy. Eventually, the mom had a healthy baby boy. A month later, her husband came in to see Dr. Carroll. He said he wanted to take a moment to say thank you. Unsure as to why, Dr. Carroll asked what he'd done. The man then explained that his wife had gone through five pregnancies. One of the times she went in to see Dr. Carroll, it was with the abdominal pain that preceded the other miscarriages she'd experienced.
When the abdominal pain disappeared, the husband said, "I don't know what you did, but whatever it was, I think you're the reason I have my son."
Book Your Appointment Today
Contact us today to discuss what we can do for you. Dr. Carroll is an in-network provider with insurance, including Medicare
---
About Back To Health Chiropractic | (970) 635-2848